Sutro offer a comprehensive
range of industry-proven
specialist NDT inspection services
As the name suggests Non-Destructive Testing (NDT) is a method for testing and analysing industrial components and materials without damaging them. A visual inspection using the naked eye is the most basic form of NDT. Other NDT methods make use of sound, radio waves and electromagnetic energy to examine everything from industrial hardware to oil & gas infrastructure to power pylons and wind turbines.
The purpose of NDT is to inspect vital industrial components in a safe, accurate and cost-effective way that minimises the disruption to your business by avoiding plant closures and downtime.
What are the benefits of NDT?
The main benefit of NDT is the fact that the component being tested is not damaged as part of the process which means that it can be repaired rather than replaced. Other benefits include:
NDT offers a safe way of inspecting industrial components as well as ensuring that the components are safe to continue using. Sutro also combines other inspections methods such as rope access and Drone inspections to ensure the health and safety of inspection engineers.
Non-destructive tests are incredibly accurate, results can be corroborated using other testing methods and repeated over time to produce reliable results.
The very nature of NDT inspections mean that problems with components can be identified and repaired before they need to be replaced
Requires minimal disruption to the daily functioning of your business, your staff and equipment.
Magnetic particle testing
Used for finding surface/near surface defects in ferromagnetic material, Magnetic Particle Inspection (MPI) is a versatile Traditional NDT inspection method used for field and shop applications.
Benefits of MPI:
Detects surface and near subsurface indications
Indications are visible directly on the material surface
Irregular shapes can be inspected easily
Pre-cleaning is not as critical
Low cost compared to many other NDT techniques
Very portable inspection method
Eddy Current is used to detect surface and near surface defects on relatively small areas; without the need to remove surface paint prior to testing.
Benefits of Eddy Current: 
Sensitive to small cracks and other defects
Lightweight and portable probe kit
Minimal material preparation is required
Instant results
Computerised reports
UT uses high frequency sound energy to conduct examinations and perform measurements.
Three basic ultrasonic techniques are commonly used:
Pulse-echo and through transmission – A transducer sends out a pulse of energy and the same or a second transducer listens for reflected energy, also known as an echo. Pulse echo is especially effective when only one side of a material is accessible.
Normal/Angle Beam – A sound beam that is introduced at 90 degrees to the surface, while angle beam utilises a beam that is introduced into the material at some angle other than 90 degrees.
Contact and Immersion – To get useful levels of sound energy into the material, the air between the transducer and the specimen must be removed. This is referred to as coupling.
Benefits of UT:
Detects both surface and subsurface defects
The depth of penetration vs. other test methods is superior
Only single sided access is required with a pulse-echo technique
Minimal material preparation is required
Instant results produced by using electronic equipment
Detailed images can be produced with automated systems
Visual inspection is often used as a weld quality inspection method and is one of the most common Non-Destructive Testing methods.
Involving visual testing of welds, this technique is capable of detecting surface-breaking defects, as many welding flaws are on the surface and can easily be detected via this weld inspection procedure.
This traditional NDT method is used to locate surface-breaking discontinuities in non-porous materials.
Benefits of DPI:
Used on a wide range of materials
Large areas or large volumes can be inspected quickly
The material anomaly can see seen visually
Complex geometries can be inspected easily
Aerosol cans make equipment very portable
Harness Testing is a key element in many quality control procedures and in particular R&D works.
The application of portable hardness testing enables you to evaluate a material's properties, such as strength, ductility and wear resistance, and so, helps you determine whether a material or material treatment is suitable for the purpose or specification you require.
Hardness testing will determine the resistance a material exhibits to permanent deformation by penetration of another harder material.
We offer the three most common indentation hardness testing methods:
The 'Rockwell' Hardness Test
The 'Vickers' Hardness Test
The 'Brinell' Harness Test
Benefits of Hardness Testing
Establish the tensile strength
Highly confident data is available immediately and with ease
Many geometry applications available to take readings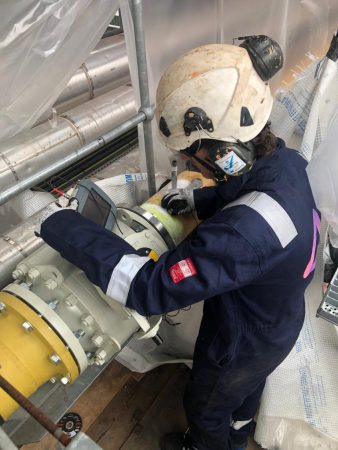 Which industries use NDT?
Sutro works with a broad range of industries that require NDT inspections and surveys. Many of our clients adhere to formal inspection procedures while others use non-destructive testing as part of routine maintenance. Industries include:
Power generation
Offshore oil & gas
Green energy – wind and solar
Civil engineering – roads, bridges and rail infrastructure
A common application is to test quality control standards, for example, testing welds and welding procedures to ensure that they are compliant with the correct specifications.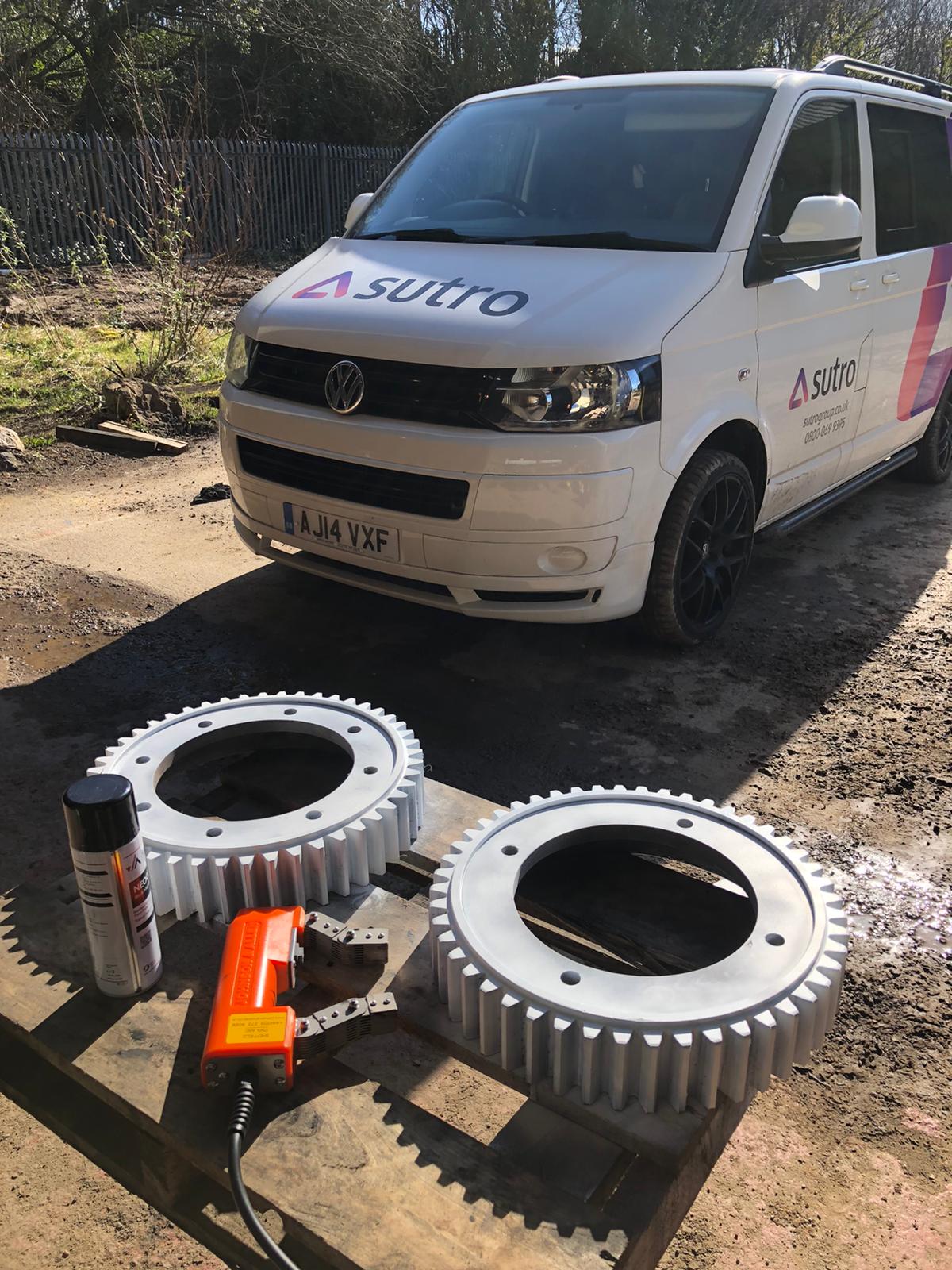 Why choose Sutro Group for NDT inspections?
Our NDT Inspection Engineers are fully equipped and capable of delivering the testing solutions your industry requires. Sutro engineers have over 25 years of experience working with industry leaders across the industrial, construction, power, utilities, oil, gas and green energy sectors.
Whether its dye penetrant, magnetic particle or ultrasonic testing, our service capabilities make us the ideal 'one-source' provider for monitoring and inspection solutions.
Adopting this 'one-source' approach, eliminates the necessity for multiple contractors and associated costs, allowing our clients to be as efficient as possible – ultimately increasing productivity and reducing costs for our customers.
From our base in Cardiff, South Wales we offer NDT inspection services to blue-chip clients such as Valero, ExxonMobil and BP. With easy access to the South West via the M4 and the rest of the UK and mainland Europe via Cardiff airport, we can quickly mobilise our ISO certified team of inspection engineers for the most complex NDT projects.
Latest NDT Inspections blog posts
Contact us to arrange a site survey, specific to
your maintenance requirements.
Find out how our access solutions can offer you cost efficiency whilst ensuring quality and safety.
Frazer Building
126 Bute Street
Cardiff
CF10 5LE