Drone inspections and surveys offer a quicker, more cost-effective and safer alternative to conventional visual inspection.
Drone services are transforming visual inspections to critical industrial infrastructure. Drones or unmanned aerial vehicles can be used wherever visual inspections and surveys are required as part of routine industrial maintenance or monitoring of remote sites.
Drones are used at height or in confined spaces to make it possible to access areas that pose risks to health and safety and the environment. Drones (UAVs) also significantly reduce the cost to your business posed by other visual inspection methods.
Unmanned vehicle services are the most efficient and practical way to access and inspect critical onshore and offshore infrastructure. From warehouse roof inspections to offshore oil and gas installations, inspection of power plants and power lines and the visual inspection of onshore and offshore wind turbines.
The goal of visual inspections is to assess if industrial assets meet quality standards or require routine maintenance. In the past, industrial inspectors performed visual inspections using only the naked eye. Inspectors would access hard to reach places using elevated platforms, scaffolding and rope access.
Today, drone inspections and surveys using cameras that record and map assets on-site, allow engineers to review the footage and report their findings from the ground.
A drone inspection can be used for a range of infrastructure. The drone flies close to or throughout the structure, creating a 3D render and map. Once complete, engineers evaluate the results and create an action plan for any necessary maintenance.
The Flyability Elios 2 is the most intuitive, reliable, and precise indoor inspection drone. Keep your workforce out of harm's way while performing flawless inspections right from the first flight using cutting edge drone data capture capabilities.
We believe that human intervention into hazardous and dangerous environments should be minimised wherever possible. Reinventing collision-resilience, the Elios 2 allows you to capture every corner and inch of the most complex and confined spaces, from a safe location.
Drone Inspection Services For External Assets:
Buildings, Roofs, Tanks, Turbines, Stacks, Bridges, Rail, Roads, Towers, Land Surveys, Agricultural Surveying, Volumetric Surveying.
Drone Inspection Services Internal Assets:
Confined Spaces, Building Internals, Culverts, Pipelines, Stack Internals, Shafts, Mines, Ballast Tanks, Indoor Stockpiles.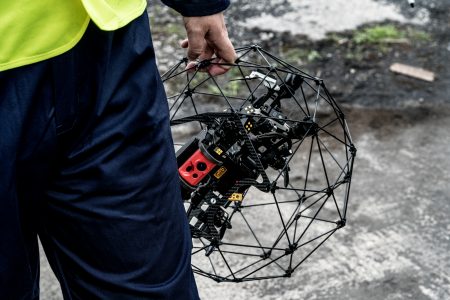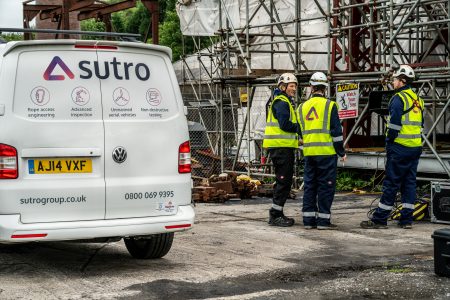 Which Industries use Drone Services?
Construction Industry

Offshore oil and gas

Power generation plants

Wind and solar farms

Civil Engineering – motorways and powerlines,
What are the benefits of Drone Inspections?
Lower cost

Safer for engineers

Less downtime

Less dangerous – save on insurance, etc

Better record keeping
Drone Building Inspections
Drones are able to reach areas of buildings that are otherwise dangerous or difficult for engineers to reach, allowing for safe and efficient inspections.
Cracking, corrosion, and any other structural damage can be incredibly dangerous to the integrity of bridges. Drone Bridge Inspections are able to regularly check for damage without the risk posed by traditional inspections and cost of closing roads.
Wind Turbine Drone Inspections
With wind turbine drone inspections, the drone can be used to direct a team of rope access engineers, ensuring more rapid coverage of the wind turbine itself and overall turbine farm.
During a drone roof inspection, a drone will fly over and map a roof for engineers, who will inspect the footage for damage. Drone inspections for roofs can save time and money and prevent injuries. In addition, they are usually more accurate and comprehensive than human inspections due to pre-programmed flight plans. Learn more about the advantages of drone roof inspections and when to use them.
Powerline Drone Inspections
Drones have become one of the smartest forms of powerline inspections as they can cover an incredibly long distance in a short time, saving on risk to employees, financial assets.
Sutro provide a wide range of aerial surveys and inspections. With access to an array of applications from high resolution cameras, thermal sensors, zoom cameras, LIDAR, sniffers and multispectral sensors.
Drones avoid the cost of other visual inspection methods such as helicopters and the health and safety risks associated with scaffolding and sky-lifts. Using fully qualified and trained UAV pilots, along with structural engineers and visually qualified surveyors, we can undertake inspections within the most challenging of environments.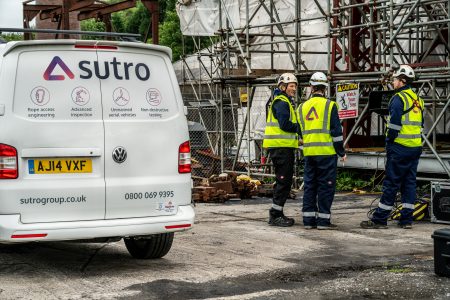 From our Cardiff base in South Wales, Sutro operates drone inspection services for our clients throughout the UK and Europe. With easy access to South West England via the M4 as well as the rest of the UK and Europe from Cardiff Airport, we respond quickly and deliver industry-leading results.
In the UK and Europe, any individual conducting a visual inspection must be professionally trained. These individuals' training includes academic qualifications and relevant experience, hazard identification, emergency procedures, information technology, and fire protection and prevention.
Similarly, as drone use in the UK and Europe is growing, there are select qualifications required for flying drones. Prior to partaking in an inspection, any individual piloting a drone between 250g and 20kg is required to obtain a certificate of registration from the Civil Aviation Authority (CAA), display his or her registration number on the drone, and have obtained an acknowledgement of competency from the CAA. Our UAV pilots at Sutro meet these standards and are highly experienced, providing you with the necessary confidence that we will conduct your remote infrastructure drone inspections with caution and efficiency.
What Is a Drone Roof Inspection?
Videography drones are lightweight, small flying vessels that you can pre-program or control remotely. Equipped with cameras, they can record video for a variety of reasons. For example, they are ideal for roof inspections because they offer a bird's-eye view of your flat, angled or multifaceted roof design. Whether you have a commercial or residential building, drone roof inspections provide recorded video regarding the state of your roof.
Why Is It Important to Inspect Your Roof?
Drone roof inspections work well for smaller buildings as well as large industrial complexes. Following a storm or years of wear and tear, it's critical to know the condition of your roof. With a recorded video showing every foot of your rooftop, you can get accurate estimates and damage assessments from professionals.
Here are just some of the ways a drone roof inspection can help property owners:
Warranty protection: If your roof warranty requires regular inspections, drones are the cheapest and easiest way to meet the requirement.
Check for weathering: Weather damage from storms can lead to expensive repairs and structural damage if left unaddressed. A drone roof inspection can help you spot problems quickly to determine if you need to take immediate action.
Leak assessment: If you have a roof leak, a drone roof inspection can reveal the source.
Drainage issues: Your gutters and drain system protect your roof and property from water incursion. Clogged drains prevent water from draining correctly. However, video roof inspections can spot leaves and debris that have built up in the gutter, facilitating the cleanup process.
Maintenance damage: Recording a video before and after work on your roof or gutters can create a record of any damage caused by contractors.
Solar panel installation: Before installing solar panels, you must meet specific state and local requirements. If you want to install solar panels on the roof, a drone video can go a long way in helping you prepare for the installation.
Preemptive checks: Regular drone roof inspections can help you spot problems while they are still easy to fix.
These are just some of the reasons owners or property managers invest in drone roof inspections to protect and maintain their properties.
What are the advantages of a Drone Roof Inspection?
There are many benefits to choosing drone roof inspections over manual inspections. First, it can save time. Drones can record 30 minutes (or more) of video without requiring a ladder, scaffolding and safety equipment to protect the inspector. They also involve less risk, not only of injury but of further damage to your roof. Finally, a drone video inspection increases the return on investment for contractors, property managers and owners.
Here is a list of some of the top reasons more people are turning to drone video inspections:
Recorded video for insurance or marketing purposes
No scaffolding required
Cheaper and safer than manual inspections
Accuracy
Pre-programmed flight for comprehensive coverage
Helpful if you decide to sell
Drone roof inspections are also great for zeroing in on specific structures.
What Types of Structure Can Benefit From a Roof Inspection?
Here are some of the structures captured well on drone video footage:
Roof coverings
Elevations
Gutters
Solar Panels
Leadwork
Chimney stacks
Commercial Property
Churches
Residential Homes
How Are Drones Used For Building Inspection?
The construction industry is massive, and as it expands, so does the demand for new and innovative ways to optimise the building process. Drones are one of these ways; with their capacity for easy manoeuvrability and accessibility, drones can offer solutions that were previously out of reach.
In the last decade, drones have been increasingly used by construction companies for inspection, checking on building sites, keeping track of progress, and ensuring that everything is going according to plan. This also allows businesses to save time and money while ensuring that their assets remain safe at all times.
Let us now take a closer look at how drones are being used in construction and the benefits they offer.
Using Drones for Construction Sites
The use of drones in construction has already led to many changes in the way buildings are made. This is evident from the increased reporting accuracy to enhanced safety conditions, and cost reduction as well as improved efficiency.
Drones are used in construction sites in several ways. These include:
Initial Survey Requirements
Now available as a full capability feature, drones have been identified as a way to fulfil initial survey requirements. Real-time aerial footage of the construction site provides information crucial for impact assessments and to reproduce accurate measuring in the initial phase of construction.
Creating 3D Models and Mapping
Drones can capture the contour of a construction site, supply high-resolution video footage that records progress, and be used for 3D modelling to produce more in-depth images and data. Drones are flown by an operator who can take photos and videos from different angles for later reference, ensuring that there is no delay on-site.
Tracking Construction Progress
Whether aerial mapping, 3D scanning, or thermal imaging systems are used, drones speed up evaluation, response, and planning during construction – keeping projects on schedule and under budget. This also enables effective monitoring of the performance of the crew on site. At the same time, it provides faster information exchanges with clients – boosting the overall efficiency of the construction process.
Site Logistics and Security
Bird's eye view imaging and data collection of infrastructure or buildings enable real-time fault detection and accurate next-generation field reporting. In this way, drone surveys around construction sites can support the security and maintenance of construction sites at all stages of development. They also have a role in logistics by assisting in not only tracking the transportation of goods but also in aerial deliveries.
Safety Management
Using drones for inspecting high-risk, dangerous structures in a construction site is now being practised all over the world as they can travel at heights inaccessible by humans and carry out round-the-clock inspections without having to worry about physical exhaustion or weather conditions.
What Are the Benefits of Drone Construction Inspection?
Construction has been revolutionised by the use of drones. This technology, also known as UAVs (unmanned aerial vehicles), has already led to many changes in the way buildings are made. They have been very useful in surveying work sites, collecting data, and inspecting buildings.
Here are ways drones have already had an impact on construction:
Accurate Surveys
Drones send back images that can be used to create 3-D models of buildings and surrounding areas. These models allow for more accurate surveying and reporting by eliminating irregularities. For example, drone images have helped to identify problems with foundations not being built correctly or cracks in foundations that wouldn't have been apparent otherwise.
Data Collection
Drone use has also helped with the regular collection of data on building progress, which is useful for updating project managers and contractors on how the project is going. This means they have reliable data at any one point thereby preventing delays.
Enabling Safety Inspections
Since drones can provide an aerial view that humans with ladders cannot get, they allow for safety inspections that would be impossible otherwise. This helps prevent workers from being injured or killed on site as drones can be flown over roofs and into tight spaces for inspection without putting workers at risk.
Saving Time and Money
Drones have allowed construction companies to save time and money by eliminating the need for scaffolding or cranes in projects that require some infrastructure support, like window washing or roofing procedures.
Because drones improve the accuracy of surveying work and materials, they also help builders plan more efficiently, helping them save on construction costs. This means project managers can spend less time on on-site inspections and focus on supervising their teams instead.
Report preparation
Drone inspection companies report on the state of the building and its various facets, including roofing, plumbing, foundation, and more. When used as an early detection system, they can help ensure that problems are fixed before they turn into major issues with costly repairs.
Safety and Accident Prevention
Drones can be used to inspect dangerous or hard-to-reach places, check the structural integrity of buildings, and examine high-voltage wires before they are put into service. With such information, workers will know whether a particular place needs attention and can immediately take action to avoid potential accidents.
Natural Hazard Prevention
With the use of drones, builders can identify flood risks and areas prone to landslides. Drones equipped with infrared cameras can also be used for night inspections to help workers assess damages caused by natural disasters. Insurance companies are already using drone technology to help assess damages from various natural catastrophes and estimate payouts faster.
.
What Can Be Inspected on a Construction Site Using a Drone?
A drone can be used to inspect these aspects of a construction site:
Inspect for areas prone to landslides
Foundations
The building itself including roofing, plumbing, high-voltage wires
Materials used such as aggregate, electrical systems, plumbing fixtures and ventilation systems
Safety conditions for the onsite crew and visiters
Latest Drone Inspection blog posts
Contact us to arrange a site survey, specific to
your maintenance requirements.
Find out how our access solutions can offer you cost efficiency whilst ensuring quality and safety.
Frazer Building
126 Bute Street
Cardiff
CF10 5LE