Drone inspections and surveys offer a quicker, more cost-effective and safer alternative to conventional visual inspection.
Drone services are transforming visual inspections to critical industrial infrastructure. Drones or unmanned aerial vehicles can be used wherever visual inspections and surveys are required as part of routine industrial maintenance or monitoring of remote sites.
Drones are used at height or in confined spaces to make it possible to access areas that pose risks to health and safety and the environment. Drones (UAVs) also significantly reduce the cost to your business posed by other visual inspection methods.
Unmanned vehicle services are the most efficient and practical way to access and inspect critical onshore and offshore infrastructure. From warehouse roof inspections to offshore oil and gas installations, inspection of power plants and power lines and the visual inspection of onshore and offshore wind turbines.
The goal of visual inspections is to assess if industrial assets meet quality standards or require routine maintenance. In the past, industrial inspectors performed visual inspections using only the naked eye. Inspectors would access hard to reach places using elevated platforms, scaffolding and rope access.
Today, drone inspections and surveys using cameras that record and map assets on-site, allow engineers to review the footage and report their findings from the ground.
A drone inspection can be used for a range of infrastructure. The drone flies close to or throughout the structure, creating a 3D render and map. Once complete, engineers evaluate the results and create an action plan for any necessary maintenance.
The Flyability Elios 2 is the most intuitive, reliable, and precise indoor inspection drone. Keep your workforce out of harm's way while performing flawless inspections right from the first flight using cutting edge drone data capture capabilities.
We believe that human intervention into hazardous and dangerous environments should be minimised wherever possible. Reinventing collision-resilience, the Elios 2 allows you to capture every corner and inch of the most complex and confined spaces, from a safe location.
Drone Inspection Services For External Assets:
Buildings, Roofs, Tanks, Turbines, Stacks, Bridges, Rail, Roads, Towers, Land Surveys, Agricultural Surveying, Volumetric Surveying.
Drone Inspection Services Internal Assets:
Confined Spaces, Building Internals, Culverts, Pipelines, Stack Internals, Shafts, Mines, Ballast Tanks, Indoor Stockpiles.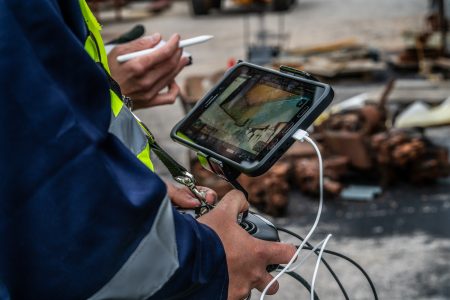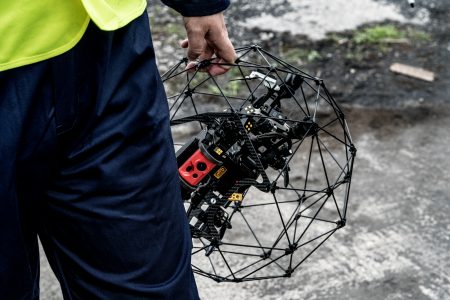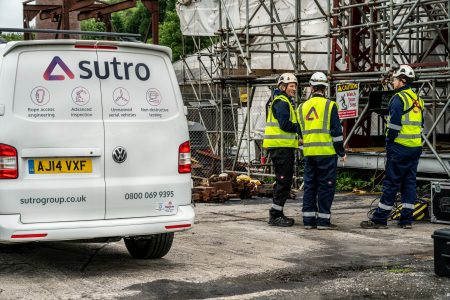 Which Industries use Drone Services?
What are the benefits of Drone Inspections?
Drone Construction Inspections
Drones are able to reach areas of construction sites that are otherwise dangerous or difficult for engineers to reach, allowing for safe and efficient inspections.
Cracking, corrosion, and any other structural damage can be incredibly dangerous to the integrity of bridges. Drone Bridge Inspections are able to regularly check for damage without the risk posed by traditional inspections and cost of closing roads.
Wind Turbine Drone Inspections
With wind turbine drone inspections, the drone can be used to direct a team of rope access engineers, ensuring more rapid coverage of the wind turbine itself and overall turbine farm.
During a drone roof inspection, a drone will fly over and map a roof for engineers, who will inspect the footage for damage. Drone inspections for roofs can save time and money and prevent injuries. In addition, they are usually more accurate and comprehensive than human inspections due to pre-programmed flight plans. Learn more about the advantages of drone roof inspections and when to use them.
Powerline Drone Inspections
Drones have become one of the smartest forms of powerline inspections as they can cover an incredibly long distance in a short time, saving on risk to employees, financial assets.
Sutro provide a wide range of aerial surveys and inspections. With access to an array of applications from high resolution cameras, thermal sensors, zoom cameras, LIDAR, sniffers and multispectral sensors.
Drones avoid the cost of other visual inspection methods such as helicopters and the health and safety risks associated with scaffolding and sky-lifts. Using fully qualified and trained UAV pilots, along with structural engineers and visually qualified surveyors, we can undertake inspections within the most challenging of environments.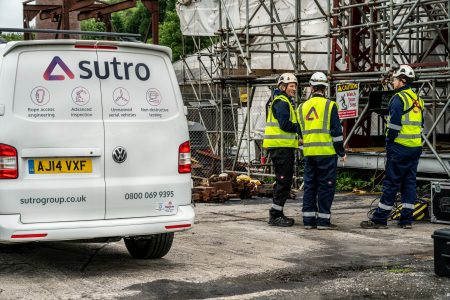 From our Cardiff base in South Wales, Sutro operates drone inspection services for our clients throughout the UK and Europe. With easy access to South West England via the M4 as well as the rest of the UK and Europe from Cardiff Airport, we respond quickly and deliver industry-leading results.
In the UK and Europe, any individual conducting a visual inspection must be professionally trained. These individuals' training includes academic qualifications and relevant experience, hazard identification, emergency procedures, information technology, and fire protection and prevention.
Similarly, as drone use in the UK and Europe is growing, there are select qualifications required for flying drones. Prior to partaking in an inspection, any individual piloting a drone between 250g and 20kg is required to obtain a certificate of registration from the Civil Aviation Authority (CAA), display his or her registration number on the drone, and have obtained an acknowledgement of competency from the CAA. Our UAV pilots at Sutro meet these standards and are highly experienced, providing you with the necessary confidence that we will conduct your remote infrastructure drone inspections with caution and efficiency.
What is a drone inspection?
A drone inspection is a type of inspection that involves the use of drones also known as, unmanned aerial vehicles (UAVs), to gather visual data and information about a specific area or object. Drone inspections are typically conducted for industrial or commercial purposes, they can be used to inspect structures such as buildings, bridges, power lines, pipelines, and other infrastructure.
Drones are equipped with high-resolution cameras, sensors, and other equipment to capture images and data from different angles and perspectives. The drone can fly over or around the target area, providing a comprehensive view of the structure, and enabling the inspector to identify any potential issues or areas of concern.
Drone inspections offer several advantages over traditional inspection methods, including faster and more cost-effective inspections, improved safety for inspectors, and more accurate and detailed data. They can also be used to inspect areas that are difficult or dangerous to access using traditional methods, such as high-rise buildings, offshore oil rigs, or remote wilderness areas.
Overall, drone inspections are an innovative and effective way to conduct inspections, and they are becoming increasingly popular across a wide range of industries and applications.
Can drones perform thermal inspections?
Yes, drones can perform thermal inspections. In fact, drones with thermal imaging cameras are changing the face of industrial and energy inspection. The latest drone models are fitted the thermal imaging technology that allows us to identify faults in a range of structures including solar farms, power lines, wind turbines, bridges and roofs.
Thermal imaging drones can uncover hidden problems by comparing temperatures over large areas. Thermal cameras let drone operators see the invisible heat radiation that is emitted or reflected by all objects, regardless of lighting conditions. Unusual temperatures can indicate potential problems that need to be investigated further. For example, an aerial inspection using thermal imaging can identify areas of unexpected heat loss due to air leaks or water damage.
Do drones have night vision?
Not all drones have night vision fitted as standard. Those that do allow drone operators to record images or video in low light or complete darkness. There are three types of night vision drones, ones with low light cameras, infrared cameras and thermal cameras.
Low-light camera drones are fitted with large camera sensors and wide aperture lenses that allow them to make the most of the limited light available to create the image.
Infrared camera drones pick up infrared light which is invisible to the human eye. Detectors in the infrared camera capture a range of invisible energy emissions and then express each wavelength through a range of corresponding colours.
Thermal camera drones don't require any light at all. Rather, they rely on thermal energy that is given off or reflected by objects.
Do drones show up on radar?
Radar can pick up drones. Radar detects objects by emitting radio waves in short pulses. If this signal hits an object, it bounces back to the radar antenna. The ability of radar to detect drones depends on the size of the drone and whether the radar antennae has been programmed to identify drones.
Latest Drone Inspection blog posts
Contact us to arrange a site survey, specific to
your maintenance requirements.
Find out how our access solutions can offer you cost efficiency whilst ensuring quality and safety.
Frazer Building
126 Bute Street
Cardiff
CF10 5LE